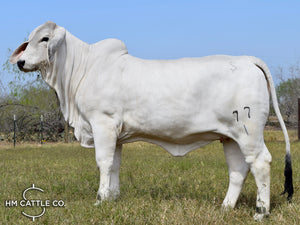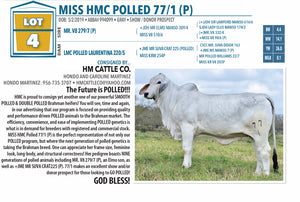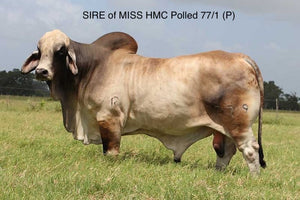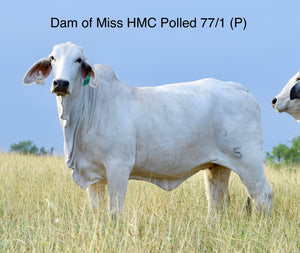 Miss HMC Polled 77/1 (P)
LOT 4: Our consignment for the International Brahman Sale during the ABBA International Brahman Show in Houston Tx on March 4th, 2020 @ 7PM. You can bid on this heifer by attending the live sale at the NRG Center, but if you can not attend, you can bid online by going to Cattle in Motion or giving us a call @ 956-735-3707 before the sale, and we can put you in touch with a sale representative to take your bid over the phone! 
For info or any questions please call us @ (956) 735-3707 or email office@hmcattlecompany.com
Date of Birth: May 2, 2019
Sire: Mr. V8 279/7 (P) (ABBA No. 910241)
Dam: LMC Polled Laurentina 220/5 (P) (ABBA No. 951885)
The Future is POLLED!!!
HMC is proud to consign yet another one of our powerful SMOOTH POLLED & DOUBLE POLLED Brahman heifers! You will see, time and again, in our advertising that our program is focused on providing quality and performance driven POLLED animals to the Brahman market. The efficiency, convenience, and ease of implementing POLLED genetics is what is in demand for breeders with registered and commercial stock. 

Miss HMC Polled 77/1 (P) is the perfect representation of not only our POLLED program, but where the next generation of polled genetics is taking the Brahman breed. One can appreciate her frame size, feminine look, long-body, and structural correctness! Her pedigree boasts NINE generations of polled animals including Mr. V8 279/7 (P), an Elmo son, as well as +JME Mr Suva Crat 225 (P). 77/1 makes an excellent show and/or donor prospect for those looking to GO POLLED!
GOD BLESS!