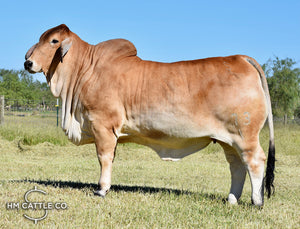 Miss HMC Polled 73/1 (P) "Jenny"
Sire: Mr. V8 279/7 (P)
Dam: LMC Polled Carla 149/5 (P)
Date of Birth: April 30, 2019
We love the style, angularity, natural muscle, and phenotype of 73/1. She is DOUBLE POLLED AND SMOOTH POLLED, and also being a half maternal sibling to 29/1. She is as close to perfection as a brahman female should be. Her first set of embryo calves were phenomenal, producing one that is currently on our show string, Miss HMC Polled 145/1 (P). We couldn't be more excited to use her to produce the next great generation of POLLED brahmans!