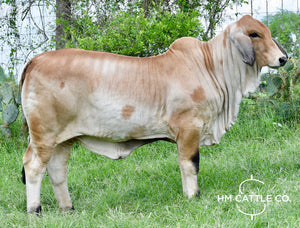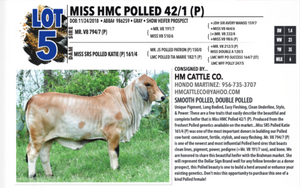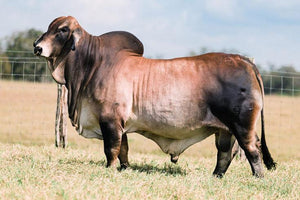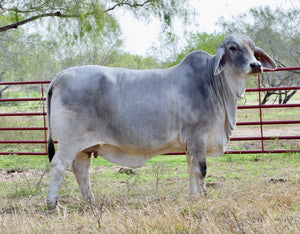 Miss HMC Polled 42/1 (P)

LOT 5: Our consignment for the National Spotlight Sale during the ABBA National Brahman Show in Rosenberg TX on November 21st, 2019. You can bid on this heifer by going to Cattle in Motion or giving us a call @ 956-735-3707 before the sale, and we can put you in touch with a sale representative to take your bid over the phone! 
For info or any questions please call us @ (956) 735-3707 or email office@hmcattlecompany.com
Date of Birth: November24, 2018
Sire: Mr. V8 794/7 (P) (ABBA No. 941010)
Dam: Miss SRS Polled Katie 161/4 (P) (ABBA No. 927581)
SMOOTH POLLED, DOUBLE POLLED, Unique Pigment, Long Bodied, Easy Fleshing, Clean Underline, Style, & Power: These are a few traits that easily describe the beautiful and complete heifer that is Miss HMC Polled 42/1 (P). Produced from the freshest Polled genetics available on the market...Miss SRS Polled Katie 161/4 (P) was one of the most important donors in building our Polled cow herd: consistent, fertile, stylish, and easy fleshing. Mr. V8 794/7 (P) is one of the newest and most influential Polled herd sires that boasts clean lines, pigment, power, pedigree (Mr. V8 191/7 son), and bone. We are honored to share this beautiful heifer with the Brahman market. She will represent the Dollar Sign Brand well for any fellow breeder as a donor prospect, this Polled beauty is one to build a herd around or enhance your existing genetics. Don't miss this opportunity to purchase this one of a kind Polled female!